The 2019 CCA #MoneyGram T20 cup was won on Sunday, Dec 22 by Nicosia Tigers, who beat Moufflons by 14 runs in the final at Ypsonas. In a fairly low-scoring match, the superior fielding of the Tigers was perhaps the difference between the teams.
After winning the toss and choosing to bat first, Tigers quickly slipped to 16 for 3. A recovery was started by Roman Mazumder (26) and continued by Anowar Hossain (27) and Abdul Manan (26) who put together a vital stand of 66, helping their team reach a total of 135 for 9 from their 20 overs. Waqar Khan was the most successful Moufflons bowler with 4-14.
Moufflons lost two early wickets before Gurdeep Sharma (26) and Gursewak Singh (33) staged a recovery with a partnership of 54. However, after both were out, another 49 runs were still needed from 32 balls, and this proved to be too much for the remaining batsmen, as the innings subsided to a disappointing total of 121.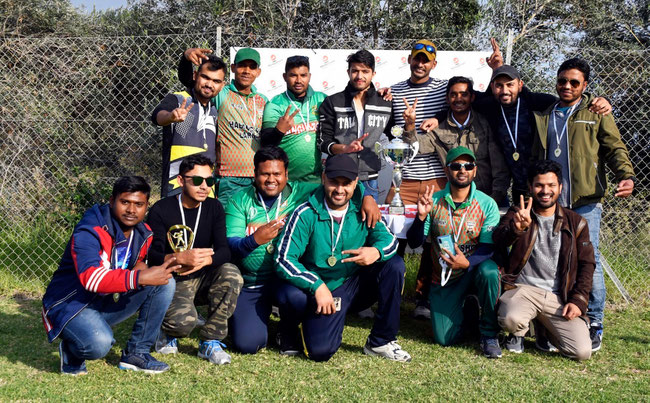 Champions of Cyprus - Nicosia Tigers
A happy Faysal Mia collected the winners' trophy, with team-mate Anowar Hossain being awarded the man of the match trophy for his important innings and two wickets with the ball.
Other trophies awarded were:
Tournament best batsman – Kulwinder Singh (Punjab Lions)
Best bowler – Ravi Kumar (Moufflons)
Best fielder – Muhammad Husain (Moufflons)
MVP (most valuable player) – Ravi Kumar (Moufflons)
Spirit of cricket award – Amdocs CC and Nicosia XI Fighters
Thanks are due to the umpires, Amila Fernando and Sachithra Nalin who did an excellent job, and to the competition sponsors MoneyGram.
The next event in the cricket calendar is the inaugural Super 6s tournament which is to be played at Ypsonas on 25, 26 and 29 December.