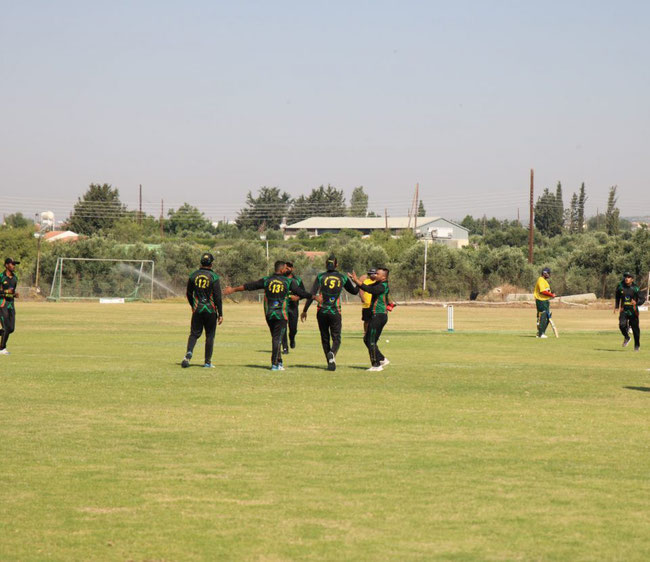 Riyaan players celebrating the fall of a Moufflons wicket at the Ypsonas cricket ground
After three rounds of matches in the Cyprus Cricket Association BAO Financial T20 Cup a pattern is emerging of dominance by Punjab Lions and Riyaan, the teams heading the two groups. Both have won all their games so far in commanding style.
Moufflons gave Riyaan a decent challenge by scoring 175 in the day's first match, thanks to Mehran's rapid 50. Ali and Ram each took three wickets cheaply for Riyaan.
However, Moufflons missed their big chance when they dropped an easy chance given by last week's double-century maker Rehman off his very first ball. He rubbed their noses in it by making 58 off 20 balls, with 6 sixes and 4 fours, before being bowled by Moufflons' best bowler, Ravi.
But Riyaan are by no means a one-man team, and good innings from Jeewan, Shoaib, Zeeshan and Awais carried them through to a comfortable seven-wicket victory with three overs to spare.
In the second game Sri Lankans were keen to make up lost ground, but struggled to make any headway against the Punjab Lions' strong and varied attack. No batsman reached 25 as they totalled a moderate score of 139 all out.
Guri followed his three wickets with a typical innings of 30 from 8 balls, and Zeeshan (46 not out) and Sonu (31) hastened the Lions to victory by 7 wickets with 7 overs to spare.
The final match saw CTL Eurocollege play their first match, against Nicosia Fighters. The Fighters found the going hard against all five bowlers used by the College, especially Murali and Amandeep, who both claimed three wickets. Their total of 120 did not seem likely to present much of a challenge.
However, Fighters reduced their opponents to 27 for 3, and later 88 for 6, giving them a glimmer of hope. But CTL batsman Manikanta held the innings together and guided his team to victory by four wickets in the 18th over, his own contribution being a match-winning 67 not out.
Correction: Rehman's score last week of 251 not out was a record individual innings in a Cyprus Twenty20 match. There was in fact a higher score in a 40-overs match in 2013. Amdocs batsman Vinay hit 303 not out in a match at the British army ground at Dhekelia. Amdocs totalled over 400 and, needless to say, the army team lost heavily!