CCA AUTUMN 2017 T20 LEAGUE & TOUR FIXTURES

Date

Time

Team

v

Team

Group

Umpires

Venue

6 Sep

14.00

Akrotiri

v

21 Engineer Reg

Tour

 

A

8 Sep

14.00

Epi Lions

v

21 Engineer Reg

Tour

 

HV

10 Sep

11.00

Representative XI

v

21 Engineer Reg

Tour

 

HV

17 Sep

10.00

Sri Lankans

v

Moufflons

A

SLLions

HV

17 Sep

13.00

Sri Lanka Lions

v

Eastern Cyprus

B

Moufflons

HV

24 Sep

10.00

Epi Lions

v

Mustangs

A

Moufflons

HV

24 Sep

10.00

Eastern Cyprus

v

Fellows

B

Teams

D

30 Sep

11.00

Moufflons

v

Journeymen

Tour

 

HV

1 Oct

11.00

Representative XI

v

Journeymen

Tour

 

HV

7 Oct

11.00

Eastern Cyprus

v

London Fields

Tour

 

HV

8 Oct

11.00

Representative XI

v

London Fields

Tour

T Smith

HV

8 Oct

10.00

Akrotiri

v

Sri Lanka Lions

B

CCA

A

8 Oct

10.00

Sri Lankans

v

Mustangs

A

Fellows

L

8 Oct

13.00

Nicosia Thunder

v

Fellows

B

SriLankans

L

15 Oct

10.00

Akrotiri

v

Fellows

B

Teams

A

15 Oct

10.00

Epi Lions

v

Moufflons

A

Teams

HV

22 Oct

10.00

Moufflons

v

Mustangs

A

Thunder

L

22 Oct

13.00

Sri Lanka Lions

v

Nicosia Thunder

B

Mustangs

L

22 Oct

10.00

Akrotiri

v

Eastern Cyprus

B

Teams

A

5 Nov

10.00

Akrotiri

v

Nicosia Thunder

B

CCA

A

5 Nov

10.00

Epi Lions

v

Sri Lankans

A

SLLions

HV

5 Nov

13.00

Sri Lanka Lions        

v

Fellows

B

Epi

HV

12 Nov

10.00

Eastern Cyprus

v

Nicosia Thunder

B

Teams

D

19 Nov

10.00

Runners-up group A

v

Runners-up grp B

3rd/4th

CCA

HV

19 Nov

13.00

Winners group A

v

Winners group B

Final

CCA

HV
Key to venues: A = Akrotiri; D = Dheryneia; HV = Happy Valley; L = Lakatamia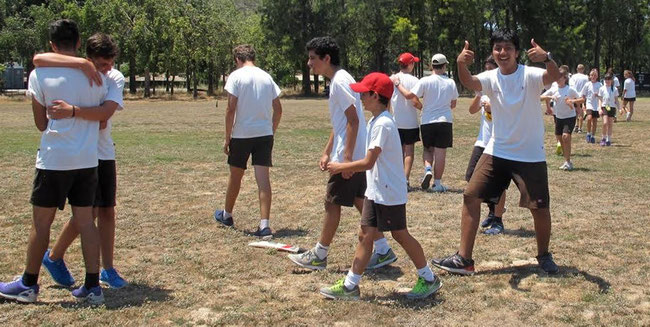 Happy Valley cricket ground was the venue for a secondary schools cricket tournament on 16 June, organised by CCA and contested by four schools – Heritage, Foleys and Silverline from Limassol, and King Richard School from Dhekelia.
On a warm day, all teams played two matches, and the organisers were impressed with the enthusiasm of the players and some good cricket. In particular the fielding caught the eye, with a good number of catches being taken by all teams, the best probably being a stunning one-handed effort by Jacob of King Richard School.
King Richard also produced the first dramatic moment, a hat-trick in the very first over by their captain Luke. This helped his team to a win over Silverline, while on the other pitch Heritage produced a fine all-round performance to overcome Foleys.
In the second round of games, Foleys had a convincing win over Silverline to secure third place in the tournament. Meanwhile in the match between the first-round winners, Heritage dismissed King Richard cheaply and soon knocked off the runs to confirm themselves as worthy winners of the tournament.
Trophies and medals were presented to the runners-up King Richard and the winning Heritage team to conclude a good day's cricket.
CCA would like to thank the schools for taking part, Episkopi Garrison for use of the ground, and the volunteer umpires and scorers. It is hoped that this event can form the basis for further development of youth cricket in Cyprus.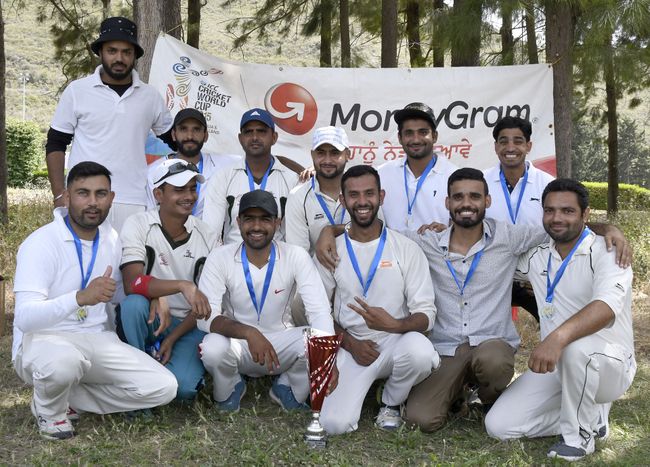 Newly formed team Nicosia Thunder deservedly won the final of the CCA MoneyGram T20 league at Happy Valley on 14 May, beating Sri Lankans by 34 runs.
The finalists had progressed through the group stage of the competition, in which Thunder had beaten Sri Lankans by 9 wickets, to the semi- finals, where Thunder beat Gladiators and Sri Lankans beat their Limassol-based compatriots Sri Lanka Lions, and had shown themselves to be the best two teams in this Spring's competition.
On a warm day Thunder captain Shoaib won the toss and chose to bat first, and was rewarded with a fine opening partnership between Sandy and Umair. Sri Lankans did not help themselves by dropping several catches, but the quality of the batting was impressive.
After Sandy fell for 34, Shoaib continued the good work with 29, but after he was out there was a collapse as the fifth and sixth bowlers, Dilan and Nalin, took 7 quick wickets between them.  Nalin's off-spin (4 for 22) was the outstanding spell for Sri Lankans, but Umair's classy 62 ensured that Thunder had a defendable total of 154 all out from 18.4 overs.
Sri Lanka's reply got off to the worst possible start with a wicket falling from the first ball. The opening bowling of Shah and Shoaib was fast and threatening, and wickets fell regularly despite Susantha's efforts to hold the innings together with his 25.
Umair continued his golden day with a wicket from his first ball, and three in total, as the batting struggled. A late flourish from Akash (20) and Dilan, continuing his fine game with 25, gave the score some respectability, but the final total of 120 all out left Thunder as clear winners on the day.
Trophies and medals were presented to the winners and runners-up. There were also individual awards for batting, which was won by Umair of Thunder who scored heavily throughout the tournament, and for bowling, which went to Dilan of Sri Lankans whose 3 wickets in the final gave him 10 for the season.
A presentation was also made to Lee Booth from Cricket Without Boundaries in recognition of his valued contribution to cricket coaching over the past few days.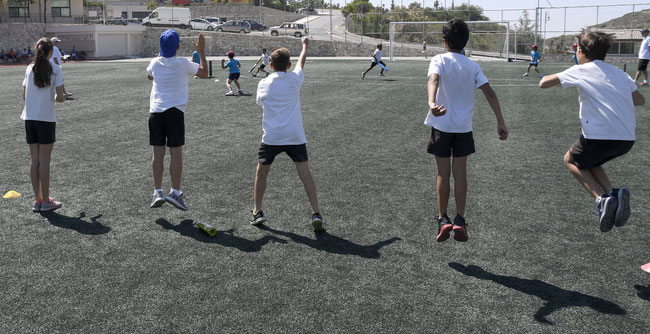 The playing fields of Heritage School were a fantastic sight on 12 May, as 15 teams of boys and 13 of girls enjoyed the fourth junior schools cricket festival organised by Cyprus Cricket Association, with additional help this year from the Cricket Without Boundaries charity in the person of Lee Booth.
Four games of cricket were played simultaneously on adjoining pitches, overseen by the small hardworking group of volunteers assembled by CCA. Teams from six schools took part – Heritage, Foleys, Akrotiri, Episkopi, Silverline, and Aspire who travelled from Paphos for the event. All schools tasted at least one victory during the day.
The girls' competition was dominated by Episkopi School, whose A and B teams both reached the final, where the A-team asserted their position with a 38-run win.
The plate competition, for first-round losers, produced a final between Silverline B and Heritage A, which after a close encounter was won by just 5 runs by Silverline.
The boys' final was also contested by Silverline B and Heritage A, and again it was Silverline who came out on top, winning by 21 runs.
Heritage did however have the consolation of winning the plate competition, where their B team beat their Foleys counterparts by 24 runs.
The winners and runners-up earned deserved congratulations, but the most important outcome of the day was the sight of almost 200 children experiencing the joy of playing the game of cricket.
At the conclusion of the day's play, trophies and medals were awarded to the successful teams, and Lee Booth engaged the children in his explanation of the work of Cricket Without Boundaries.
Further schools events are planned for 16 June (secondary schools) and late June (under-9s). CCA is grateful for the co-operation of the schools, and the use of the sports pitches at Heritage; also for the support and enthusiasm of Cricket Without Boundaries. 

The semi-finals of the spring T20 competition were played on Sunday at Happy Valley, where two keenly contested games eventually produced two clear winners.
The all-Sri Lankan affair in the morning was won by the Nicosia team, who followed up their useful total of 152 for 4 by bowling out the Limassol-based Sri Lanka Lions for 98, to win by 54 runs. 
Sri Lankans' captain Amila had no hesitation in batting first when he won the toss, and proceeded to lead from the front with a fine 36 before sacrificing himself in a run-out mix-up with Mangala, who batted on to the end for 31 not out. There were also useful contributions from Wallage and Ajith, but the batting never totally dominated the bowling, and a final score of 152 for 4 still gave the Lions hope.
In reply, useful innings were played by Sameera, Buddika and Tharanga, but they all got out before they could really threaten the target. For Sri Lankans all bowlers performed well. Sujantha dismissed both opening batsmen, but the pick of the bowlers was Suresh with 3 for 12 from his 4 overs.
Unusually, eight of the batsmen were bowled, as the Lions were all out in the 18th over. Lions can however feel pleased with their results in their first attempt in the T20 league.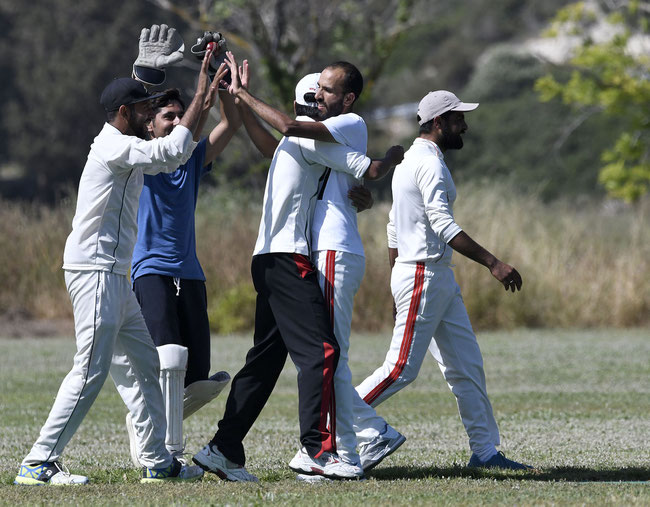 The afternoon game pitted Nicosia Thunder, who were missing their captain Shoaib, against Limassol Gladiators, who had Andy Mulkern making a welcome return from illness.
Thunder batted first and after losing an early wicket, soon dominated the game through an excellent century partnership between captain for the day Sandy (82) and Umair (77), eventually reaching 207 for 4 from their 20 overs. Gladiators had the misfortune to lose Babar from their bowling attack due to injury in his second over.
Facing a daunting total, Gladiators set off at a good run rate. After losing both openers, they were put into a potentially winning position by a rapid partnership between Shahid (43) and Baig who hit an excellent 56, before both fell looking for more big shots.
As so often, after the attempts by the quick bowlers, it was the more gentle medium pace of Manan that did the damage with three crucial wickets. Umair's legspin also brought two wickets, and with a couple of run outs the innings subsided to 160 all out.
Thunder's superior fielding, as well as their confident top-order batting, made the difference, but Gladiators could be proud of their efforts to win the match. 
6-a-side tournament at Happy Valley on Sunday 30 April
WINNERS - SRI LANKANS A
CCA 6-A-SIDE TOURNAMENT RULES
·         12 TEAMS divided into 4 groups of 3
·         Teams play both other teams in their group
·         Group winners progress to the semi-finals, and winners of semi-finals to the final
·         If there is not a clear winner in a group, it will be decided by the most wickets taken
·         MATCHES will be 5 overs per team
·         Overs are bowled by 5 different players, with no change of wicketkeeper allowed
·         If scores are level, the team losing fewer wickets wins. If still level, game is tied
·         In semi-final and final, one extra over per team will decide a tied match
·         No fielding restrictions
·         All balls bouncing above shoulder height will be no-balls  (no "one for the over")
·         Balls down leg side will be wides
·         All teams to score their own matches
·         Teams to provide umpires for other matches as requested
·         20 euro entry fee to be paid before team plays (NO exceptions)
·         CCA will provide (used) balls for the games
·         Trophies for winners / most sixes / best batsman / best bowler
·         60 euros prize money to winning team
TIMETABLE
| | | |
| --- | --- | --- |
| TIME | PITCH 1 | PITCH 2 |
| 9.00 | Group A – Match 1 – Akrotiri v Epi Lions | Group C – Match 1 – ITC v Moufflons B |
| 10.00 | Group B – Match 1 – Moufflons A v Sri Lankans B | Group D – Match 1 – Gladiators v Sri Lanka Lions B |
| 11.00 | Group A – Match 2 – Akrotiri v Sri Lankans A | Group C – Match 2 – Moufflons B v Sri Lanka Lions A |
| 12.00 | Group B – Match 2 – Moufflons v Sri Lankans B | Group D – Match 2 – Sri Lanka Lions B v Gladiators |
| 1.00 | Group A – Match 3 – Epi Lions v Sri Lankans A | Group C – Match 3 – Sri Lanka Lions A v ITC |
| 3.00 | Semi Final  1 – Sri Lankans B v Gladiators | Semi Final 2 – ITC v Sri Lankans A |
| 4.00 | Final – Gladiators v Sri Lankans A |   |
Group A – Akrotiri, Epi Lions, Sri Lankans A
Group B – Moufflons A, Sri Lankans B
Group C – ITC, Moufflons B, Sri Lanka Lions A 
Group D – Gladiators, Sri Lanka Lions B 
Women's and youth coaching both start up for 2017 at Silverline School. For more details. Go to the Women's Cricket or Youth Course pages.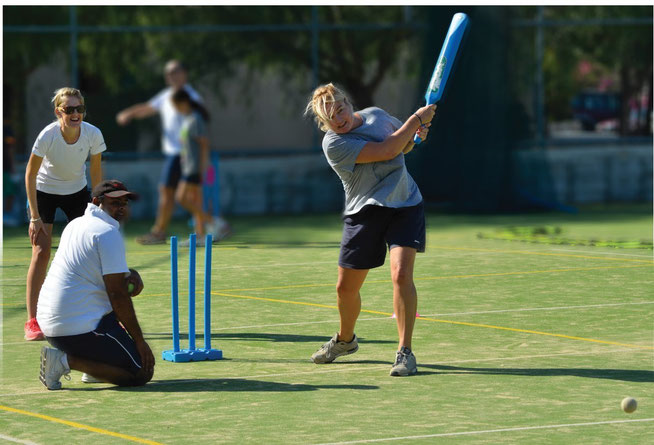 Report of touring Swiss team SGCC Allstars  here.