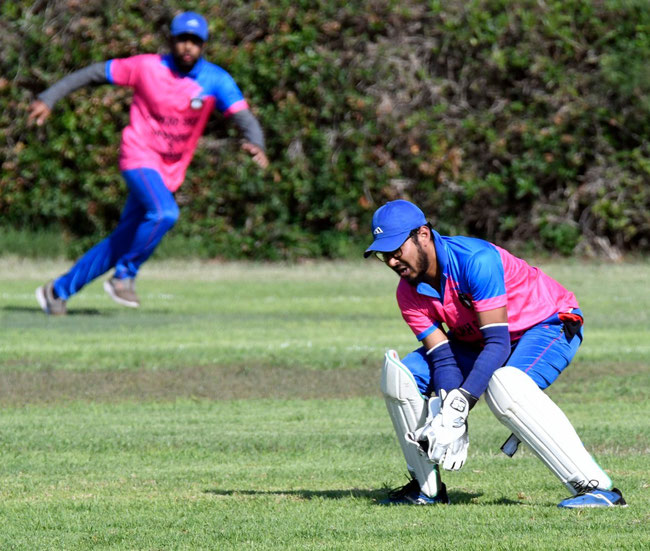 The 2019 CCA #MoneyGram T20 Cup continued on Sunday with two contrasting matches at Episkopi, featuring strong bowling in the first game, and swashbuckling batting in the other.
In the morning new team Nicosia XI Fighters played their first match, a friendly but competitive game against CTL College, who themselves only joined last season. The Fighters batted first and tried to build their innings, with Arif, Sakir and captain Benojir all making decent scores. CTL for their part fielded with great enthusiasm and teamwork, as well as possessing a more than useful bowling attack, all of whom were economical as well as threatening. Gopi was the pick, with 3 for 13 from his four overs, and was well supported by Naresh and Rajasekhar. From a comfortable looking 84 for 3 after 14 overs, the Fighters subsided to 99 all out in the 19th over.
The Fighters bowlers tried hard to protect their below-par total, and succeeded in taking four wickets. But after Vijay and Prem steadied the ship, the more aggressive Haresh and Murali combined to make short work of the second half of the run chase, finishing the match with a flurry of boundaries.
CTL won by six wickets with 6 overs to spare, and Gopi was awarded the man of the match award for his fine bowling.
The afternoon game featured a team returning to the league, Eastern Cyprus, against a newly formed team, Riyaan, containing a number of players who have previously played with distinction for other teams.
The Paralimni outfit chose to bowl first, and endured a harrowing time as the Riyaan batsmen capitalised on some missed chances to pile up a mammoth 20-over score of 230 for 4. Openers Sibtal and Rehman put on 58 and the latter went on to complete a half century full of aggressive drives. Wellage played a number of well-timed legside shots in making 29, and the stage was set for captain Shoaib, who did not come in till the tenth over, to hammer an unbeaten 94 off just 42 balls. Zeeshan supported him with 18, and the task facing Eastern Cyprus seemed almost impossible.
To make matters worse, Austin, who had taken two wickets and a run-out, was himself unluckily run out early in the reply. But Jogi and Aman were not prepared to go down without a fight, and added 87 for the third wicket. Aman hit 5 sixes in his valiant 57, with support from Krissh, and in the end the Easterns reached a creditable total of 129 for 5, losing by 101 runs but restoring some pride in their performance.
Shoaib was the clear man of the match, and Riyaan look as if they will be a formidable force in the competition.
Next weekend brings a busy day of cricket with five matches to be played on three grounds, including the first games on the new ground at Ypsonas.