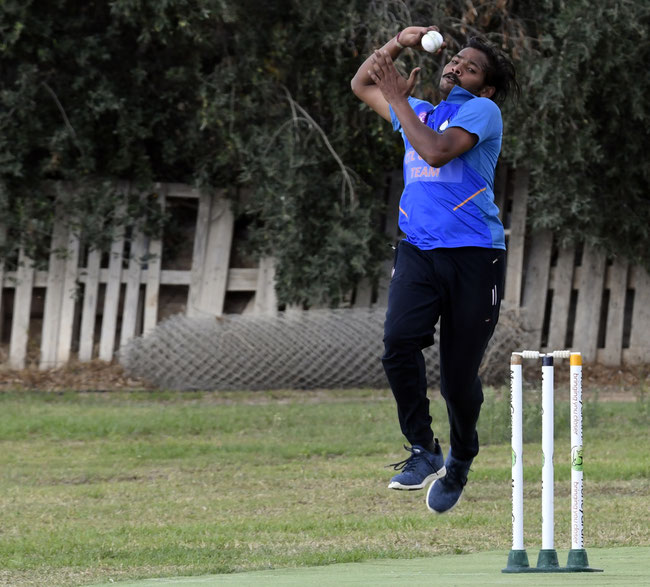 Man of the Match, P Rajasekhar of CTL EuroCollege in action
Dodging the heavy rain which fell on parts of Cyprus on Sunday, matches in the 2019 CCA #MoneyGram T20 Cup were completed at Ypsonas and Dhekelia, with CTL College moving joint top of group A while Limassol Gladiators gained their first win in group B.
ESBA entertained Gladiators at their Dhekelia ground, where over-watering of one end of the ground meant that all the overs had to be bowled from the other end. This had the effect of speeding up the over-rate, which had the happy result of the game being completed just before the rain arrived.
ESBA batted first and, despite losing an early wicket, made a good start with a partnership of 75 for the second wicket. Hornbuckle was the dominant player, hitting 53 from 43 balls, and received dogged support from Davies with a patient 31. A feature of their batting was the excellent running between the wickets.
The opening bowling by Junaid and Abbas was very tight, with combined figures of 3 for 23 from their 8 overs, and they were backed up by Sadiq, Shah and Murtaza, plus three catches by Nasir. The innings fell away at the end to finish on 116 for 7 from the 20 overs, perhaps 20 runs short of a competitive total.
When Gladiators replied Sadiq showed his intent with 4 boundaries in the first over, and continued to play well for his 53. The ESBA bowlers worked hard to contain the batsmen, but were let down by some shoddy fielding, and Gladiators were able to ease to victory without too many alarms. Shahid played within himself as he looked to regain his form of earlier seasons, and ended on 29 not out, well supported by Nasir with 17 not out, as victory was achieved in the 18th over for the loss of two wickets.
At Ypsonas the game between Akrotiri and CTL College was a short one. Akrotiri batted first and despite 32 by Oliver they were bowled out for just 60 in 15 overs. For the College man of the match Raja took 3 wickets, as did Charan and Shekhar. The target was reached in only 8 overs for the loss of one wicket, with Harsha making 24 and Murali 16 not out.
Images from CTL EuroCollege vs Akrotiri can be found here.