In the penultimate round of group matches in the Cyprus T20 cricket league, the positions became a lot clearer due to important wins for Moufflons and Sri Lankans.
In group B Punjab Lions and Moufflons will qualify for the semi-final stage, while from group A, CTL Euro College will be joined in the semi-finals by Sri Lankans unless Nicosia Tigers can pull off a huge win in their last game next weekend.
The two key games on Sunday took place at Ypsonas. In the morning Sri Lankans extinguished the last glimmer of hope for Nicosia XI Fighters, but only by the narrowest margin of one run.
Mangala with 44 topscored as Sri Lankans reached 158 for 5 from their 20 overs. In reply the Fighters lost their first 8 wickets cheaply, but then a remarkable partnership between Sakir (43 not out) and Ramjan (45 not out) took them to within a single run before they ran out of overs at 157 for 8, with Mangala taking 4 wickets. Despite their disappointment it has been a good first season in the league for the Nicosia team.
The afternoon match between Riyaan and Moufflons was effectively a play-off for the knockout stages, and was consequently contested keenly. Moufflons managed to dismiss the prolific Shoaib and Rehman cheaply, and despite 38 from Zeeshan and 27 from Sugath, Riyaan could only reach 122 all out. Left arm spinner Ravi was again the main destroyer with 4 for 14, well supported by Waqar and Yamin. Moufflons made short work of their task, with good contributions from Gursewak (27), Shahzeb (31) and their own Zeeshan (23 not out), plus 28 extras. Victory was achieved in the 14th over by 7 wickets.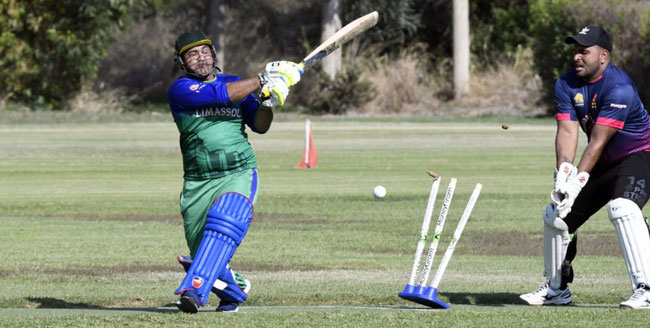 Meanwhile at Episkopi the group B leaders Punjab Lions had a comfortable win over Limassol Gladiators. The Lions notched 193 for 7, with Tiwari scoring 44 and Kulwinder 61 with 6 sixes. Gladiators did not come close to winning, only Sadiq and Babar passing 20 as they finished on 126 for 8. Tiwari followed up his batting by taking four wickets.
At Dhekelia the home side, ESBA, and visiting Sri Lanka Lions each had only 9 players, which left a lot of gaps in the field. Nevertheless it was not a particularly high-scoring game. Sandun's 56 and Tharanga's 43 not out helped the Lions to 149 for 4, despite some tidy bowling by Stephens and Jogi. ESBA lost two wickets in Kamal Raiz's first over, and never recovered, staggering to 83 for 6 from their 20 overs, with captain Idris Davies topscoring with 22 not out.