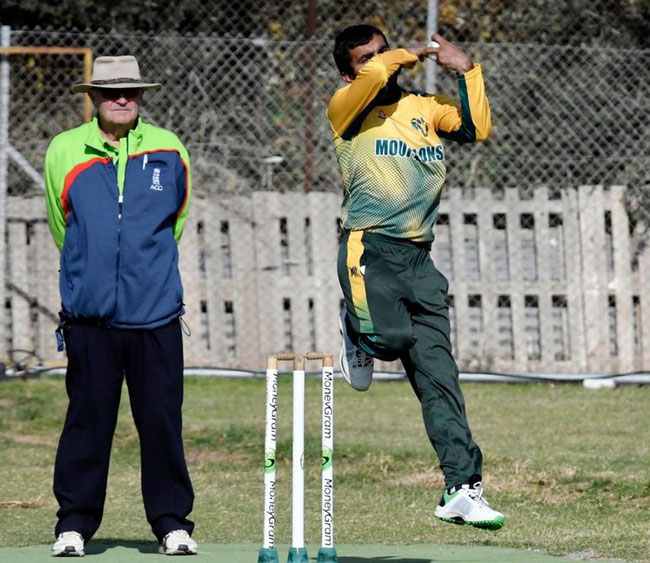 The season's most successful bowler Ravi Kumar delivers the ball under the watchful eye of umpire Peter Brown
The eagerly-awaited final of the Cyprus T20 competition between Moufflons and Nicosia Tigers fell victim to the heavy rain which made the Ypsonas ground unplayable.
The match will now be played a week later on December 22 at 10am. A women's cricket competition will follow in the afternoon.
The enforced delay allows time to reflect on some highlights of the season so far. Two new teams – Nicosia XI Fighters and CTL Euro College – took part and acquitted themselves well, especially CTL whose strong bowling attack and enthusiastic fielding helped them win their first four matches and reach the semi-final stage, where they lost to a Moufflons team enjoying their best-ever form under long-serving captain Muhammad Husain, whose runs and catches have been vital.
Perhaps the most surprising aspect of the season has been the success of Nicosia Tigers, who achieved unexpected wins over Sri Lankans in the group stage, and over the formidable Punjab Lions in the semi-final. Their captain Faysal Mia has benefitted from the reliable bowling of Abdul Manan, and important contributions with the bat by Yasir Khan and Iftekhar Jaman.
The demise of Riyaan and Sri Lankans came as a surprise, but they both have too many good players to remain in the doldrums for long.
On an individual level, there have been three centuries – by Gurdeep Sharma (Moufflons), Ranimekala Manikanta (CTL) and Kulwinder Singh (Punjab Lions) who is the leading runscorer with 320 at an average of 106.67, narrowly ahead of Sri Lankans' consistent Mangala Pradeep who hit three half-centuries in his five innings.
The leading bowler is Moufflons' slow left-armer Ravi Kumar with 19 wickets at an average of 5.4 and an economy rate of 4.4 – quite exceptional figures in 20-over cricket.
Abdul Manan (Tigers), Neeraj Tiwary (Punjab Lions) and Murtaza Yamin (Moufflons) all have wicket tallies in double figures. The top fielders are Muhammad Husain (Moufflons) and WCP Wallage of Riyaan.
The stage is set now for what promises to be a closely fought final on Sunday – weather permitting!