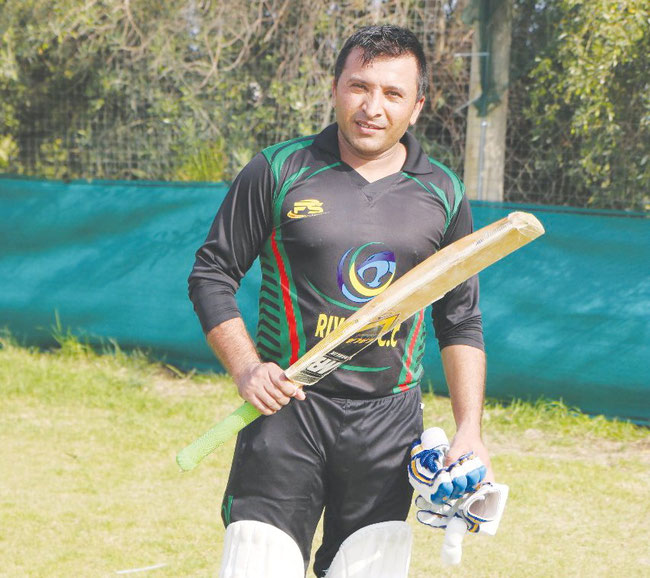 Rehman of Riyaan CC after his record-breaking innings of 251 not out - the highest individual score in any T20 match in Cyprus
A spectacular innings by Rehman of Riyaan CC was the highlight of the second round of matches in the Cyprus Cricket Association BAO Financial T20 Cup on Sunday, in front of a global internet audience of more than 100,000 cricket enthusiasts.
Opening the batting against the Limassol Gladiators in Ypsonas, Rehman hit an almost unbelievable 251 not out – the highest individual score in any match in Cyprus. He reached his 100 in just 30 balls, his 200 in 64 balls, and in all faced just 80 balls as he batted through the innings.
The Gladiators bowlers did not bowl especially badly, but Rehman displayed a full range of aggressive strokes, especially straight drives as he made the biggest share of his runs to the long-on and long-off boundaries. He hit 22 sixes and 24 fours, taking his team to a massive total of 311 for one wicket off their 20 overs. He received good support from Jeewan (36) in a first wicket partnership of 257.
Unsurprisingly the match petered out as a contest, as Gladiators made 126 for 6 in reply, leaving Riyaan the victors by 185 runs.
The day's other games were also one-sided. In the morning Punjab Lions restricted Amdocs to 120 all out on the last ball of their 20 overs. The Lions slow bowlers Tiwari, Sushil and Waqas slowed down the scoring rate, and the quicker bowlers benefitted – Lally with five wickets and Kulwinder three.
Punjab Lions knocked off the runs in the 12th over, due mainly to an innings of controlled aggression by Sonu (46 from 27 balls) and lusty hitting by Kulwinder (24 not out, with three sixes).
In the midday game Sri Lankans CC beat Nicosia Tigers by 61 runs. Their total of 192 for 9 was based around Prasad's hard-hitting 85 from 34 balls, with 6 sixes and 10 fours.
Qasim bowled well for the Tigers to take five wickets for 15 in his four overs, but received little support from the other bowlers.
It was soon clear that the Tigers' batsmen could not match such a score, and their innings subsided disappointingly to 131 for 9, with few of their batsmen making any real effort to chase the runs.
On the evidence of the early rounds of matches, it is no surprise that Punjab Lions will take some beating – but maybe Riyaan and Rehman will have a big say in matters too.