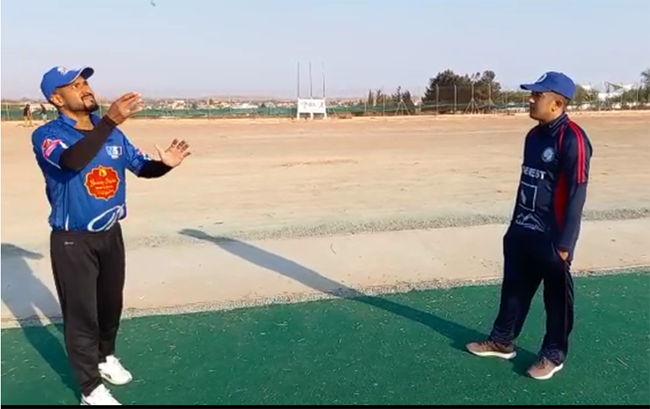 ---
Cricket made a welcome return to the Lakatamia stadium, allowing the Nicosia-area teams to play their matches in the 2021 CCA #BAOFINANCIAL T20 Cup at a convenient local venue, while the Limassol district teams continue to play at Ypsonas.
A lot of hard work had gone into preparing the ground, after a long period of dis-use, and special thanks are due to the Cyprus Cricket Association chairman Muhammad Husain, and to the players of the Black Caps and Punjab Lions cricket clubs, among others, for their efforts.
As a result, those present were treated to three good games of cricket, featuring centuries by Mangala Pradeep of Sri Lankan CC and Waqas Akhtar of Black Caps.
The first game of the season at the venue was an encounter between the reigning champions, Punjab Lions, and Everest CC, a largely Nepalese team with lofty ambitions.
It was the champions who prevailed by 22 runs, their total of 155 being based on Zeeshan Mehmood's 80, with support from Hervinder Singh (31), while Everest's opening bowlers took 7 wickets between them (Arjun Shahi 4-28, Sahil Aktar 3-18).
In Everest's reply no-one was able to give enough support to Ashish Bam's 45, and all five of the Lions' bowlers took wickets, with Tejwinder Singh (3-18) the most successful.
A new team, Singh Is King, found themselves up against the experienced Sri Lankans, and gave a good account of themselves in defeat. Mangala's 142, with help from Nalin Gamage (32) took Sri Lankans to a formidable total of 223-4 from their 20 overs.
Singh Is King had contributions all down their order as they chased the target, including a remarkable 25 by captain Jogi Dhindsa (four sixes and a single), but ultimately fell short on 178 all out.
The last match at Lakatamia saw both teams pass the 200 mark, as Black Caps' 228-5 proved too much for Nicosia Tigers, who made a valiant 205. Waqas was the main man with 101, ably assisted by Bikram Singh (38) and Kuldeep Kumar (33). For the Tigers Rasedul Hasan (46), Abid Ali (41) and Roman Mazumder (34) put up a good fight but in vain.
At Ypsonas Amdocs gained their first win of the season at the expense of Limassol Bangladeshis. Their impressive total of 199-4 was founded on Preetaj Deol's unbeaten 83 and captain Chaitas Shah's 53. Bangladeshis in reply slumped to 138 all out.
Sadun Chamal was Sri Lankan Lions' chief contributor in a low-scoring win over Limassol Thunder, who managed only 103. He took three wickets and achieved a run-out, before hitting 22 as the Lions eased to their target for the loss of just 4 wickets inside 9 overs, with Chami Kumara also making 22.
The other game resulted in a win for Cyprus Eagles – CTL when their opponents Limassol Zalmi forfeited the game in unfortunate circumstances.
Next week sees three more games at each ground as the competition, like the weather, hots up.