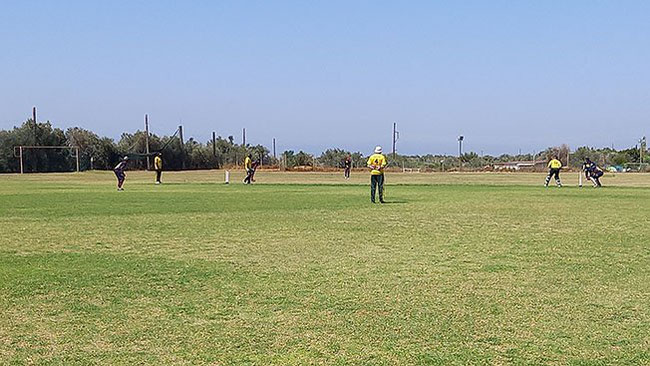 ---
The weekend's cricket in Cyprus produced another batch of high scores, but only one close finish in the 2021 CCA #BAOFinancial T20 Cup.
Mangala Pradeep hit his second consecutive century as Sri Lankans comfortably chased down Everest's 187-6, an innings held together by Aizaz Jameel's 72 not out. Malka Dulaj, not a regular bowler in previous seasons, took 4-26 before joining Mangala in a century opening partnership on their way to a 7-wicket win.
Earlier, Black Caps beat Nicosia Fighters by 69 runs. Openers Bikramjeet Singh (100) and Waqas Akhtar (80) led Black Caps to a huge score of 253-3. The Fighters could not challenge such a total but, with contributions all down the order, they did manage a respectable 184-9.
The other game at Lakatamia featured a terrific run chase by Nicosia Tigers. Riyaan's 194-8 featured a top score of 42 by their captain, Shoaib Ahmad, but the Tigers hunted down their target in 18 overs, led by Shakhawat Hossain's 58.
At Ypsonas the stand-out game matched Limassol Qalandars and Cyprus Moufflons, who had both won their previous two matches. The teams did not disappoint, producing a thriller which the Moufflons won by just 3 runs. Mehran Khan's 69 helped them reach 185-7. His innings was matched by 66 from Qalandars' Jawad Ali Shah, but a decisive spell of bowling by Gursewak Singh (5-46) enabled Moufflons to secure the win.
Their stable mate Limassol Moufflons lost by 23 runs to Sri Lanka Lions, for whom Roshan Lakmal's 45 was the top score out of a challenging total of 206-7. Zeeshan Ali hit 76 in the Moufflons reply, but he was one of four batsmen run out as the team shot themselves in the foot.
In the last game of the day Amdocs had an easy win over Limassol Thunders, who were all out for 110, with Amdocs' Vimal Khanduri returning the exceptional figures of four wickets for four runs. Openers Hitesh Thadani and Preetaj Deol put on 94 for the first wicket to put Amdocs on their way to a 7-wicket victory with more than 8 overs to spare.
Next weekend sees a competitive-looking 40-over match at Ypsonas between Moufflons and Sri Lankans on Saturday, followed by three more T20 games at each venue on Sunday.