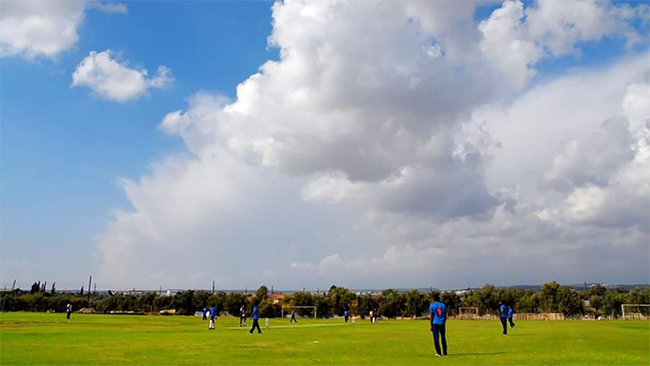 ---
The weekend produced some close finishes and a few surprise results as the cricket calendar expanded to include a new competition, running alongside the T20 Cup.
The 2021 CCA #BAOFINANCIAL 40 Overs Cup presented by Abbeygate Insurance is being contested on Saturdays, and got off to a good start with a well contested match between Moufflons and Sri Lankans, played at the Ypsonas cricket ground.
Roshan Lakmal (72) and Abid Ali (64) led the way for Sri Lankans to post 246, with Murtaza Yamin (3-38) being the most effective Moufflons bowler. Zeeshan Sarwar's 82 and Mehran Khan's 50 enabled Moufflons to chase down their target in 35 overs with four wickets in hand.
On Sunday six more games were played in the 2021 CCA #BAOFINANCIAL T20 Cup, with the stand-out result being Singh Is King's two-wicket victory over defending champions Punjab Lions. The Lions set a target of 203-8, based on the in-form Zeeshan Mehmood's 66, but the team from the east of the island was able to chase it down with just two balls and two wickets to spare, thanks largely to Ikram Tanveer's 91.
Another two-wicket victory was achieved by the undefeated Black Caps. Their opponents Everest notched 198 for 4, with Aizaz Jameel making 86 and Ashish Bam 50 not out. Black Caps were led to victory by the consistent Bikramjeet Singh (58) and got home with just one ball to spare. The unlucky Everest team have lost all three games played but without being outclassed at all.
Riyaan chalked up a remarkable 281 for 4, with four batsmen making half-centuries – Rehman Ali, Shoaib Ahmad, Awais Liaqat and Yasir Mehmood. Nicosia Fighters made a good stab at it in reply, reaching 222 for 6, with Abdullah Al Tasmin unbeaten on 91.
Meanwhile at Ypsonas, Limassol Zalmi recovered from a bad start to the season with a strong victory over Sri Lanka Lions. Arshid Ali's 4-17 helped to restrict the Lions to 172 for 9, which Zalmi knocked off comfortably with 14 balls to spare, Umar Shah making exactly 100.
Cyprus Eagles CTL kept up their one hundred percent record with a three-wicket win over Limassol Bangladeshis. Murali Alanki's 3-14 helped dismiss the Bangladeshis for 105, before Mike Kyriakou followed his two wickets with 36 runs to help the college team stumble over the line at 107-7.
One of the best performances of the day came from Limassol Moufflons who overcame Limassol Qalandars by 27 runs. Amir Sohail's 60 was the mainstay of Moufflons' 189 for 8, and despite Jawad Ali Shah's 84 Qalandars could only muster 162 in response.
The early leaders in the T20 Cup are Cyprus Eagles and Cyprus Moufflons in the western group, both with three wins out of three. Black Caps lead the eastern group with three wins from three games, followed by Sri Lankans who have won both their games to date.
This Saturday sees a potentially crucial game between Back Caps and Moufflons in the 40-over cup at Lakatamia on Saturday, followed by three more T20 matches on Sunday at both Lakatamia and Ypsonas.