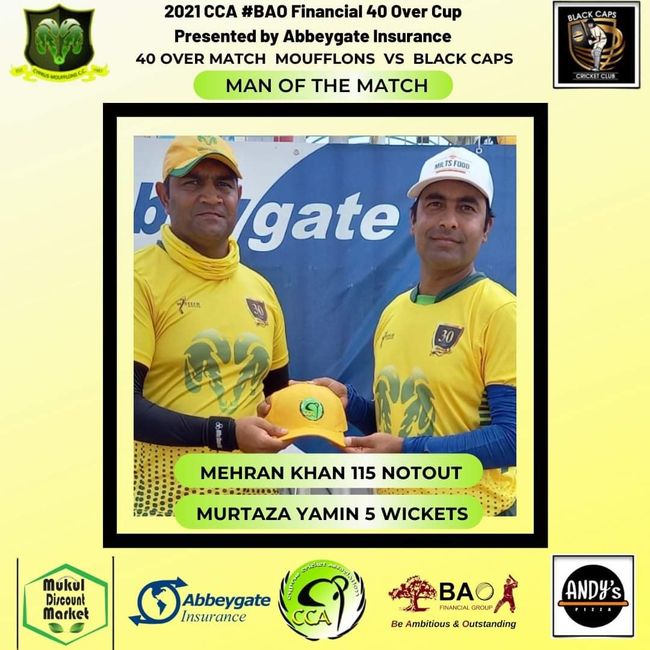 ---
Moufflons continued their fine start to the 2021 CCA #BAOFINANCIAL 40 Over Cup presented by Abbeygate Insurance on Saturday with an emphatic 8-wicket win over Black Caps.
Murtaza Yamin's five wicket haul helped restrict the Nicosia based Black Caps to a total of 209, with Madhukar Tendulkar top-scoring with 60. Moufflons' openers, Gurdeep Sharma and Zeeshen Sarwar got them off to a good start, before Mehran Khan came in to seal the match with an imperious century. Mehran has been arguably the consistently best batsman in Cyprus in recent seasons, and he stroked an unbeaten 115 to take his team to victory in the 26th over.
Five matches were played in the CCA #BAOFINANCIAL T20 Cup on Sunday, with one game having to be postponed due to Covid precautions. 
The outstanding result was Nicosia Tigers' 7-wicket victory over Punjab Lions, who are finding life tough as defending champions. Anowar Hossain's 3-28 helped dismiss the Lions for 185, which could have been a lot less without Tejwinder Singh's 46 at number 7 and number 9 Harpreet Singh's 37. Rasedul Hasan's 73 and Roman Mazumder's 39 took the Tigers to a comfortable win.
Another match between Nicosia powerhouses resulted in a narrow win for Riyaan over Sri Lankans. Captain Mangala led the way with 49 for Sri Lankans as they scored 179 for 6 from their 20 overs. But he was outdone by Riyaan's opener Yasir Mehmood whose 79 took his team to their target with two wickets standing.
At Ypsonas, Cyprus Moufflons carried on their parent team's good work from the previous day by beating Amdocs by 52 runs. Gurdeep Sharma (64 not out) and Gursewak Singh (53) provided the basis of their 217-3 before Murtaza Yamin continued his fine weekend with three wickets for 33 as Amdocs totalled 165-5, with Srikanth Komiripalepu scoring a consolation 50.
Cyprus Eagles CTL gained a convincing victory over Limassol Thunders. Mike Kyriakou continued his fine form with 57 as the students reached 195-6 before dismissing Thunders for 108, with 5 wickets for Angarekkala Srinivas.
There was an even more emphatic win for Limassol Zalmi who hit 193-7 (Nasser Ahmed 35, Umar Shah 33; Inzamam Ul Haque 3-32) before bowling out Limassol Bangladeshis for 80 (Murtaza Khan 3-10, Abbas Khan 3-7).