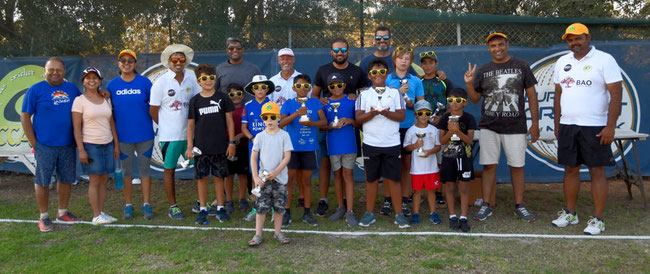 ---
This year's Summer Youth Cricket program got underway on Friday 11th June, with pandemic restrictions lifted sufficiently to allow play to proceed. The six week program ran two sessions per week, on a Friday and a Saturday from 5pm with a duration of 90 minutes per session.
The coaching sessions were open to young cricketers age 6 to 15, and were held at Ypsonas cricket ground, near Limassol. The weather at Ypsonas was consistently sunny with a steady (and very welcome!) light, refreshing breeze greeting players and coaches for all of the sessions.
Each of the sessions provided young cricketers with the opportunity to improve their play and understanding of the game across all areas, beginning with the fundamentals. It was a priority that the young players enjoyed what they were learning, and that they invariably gained the opportunity to hone their skills in a match-type situation, as the finale of each and all of the sessions that were presented.
The course was well attended, and it was clear throughout the six week period that all of the students enjoyed what they were doing. At the end of the final session the young cricketers were presented with trophies/prizes to mark their well-earned achievements. My thanks go to all the cricket coaches for their positive input. Finally, I wish to thank the young cricketers who attended the course. It was a pleasure to work with all of you.
Andy Crawford
Juniors Cricket Coach