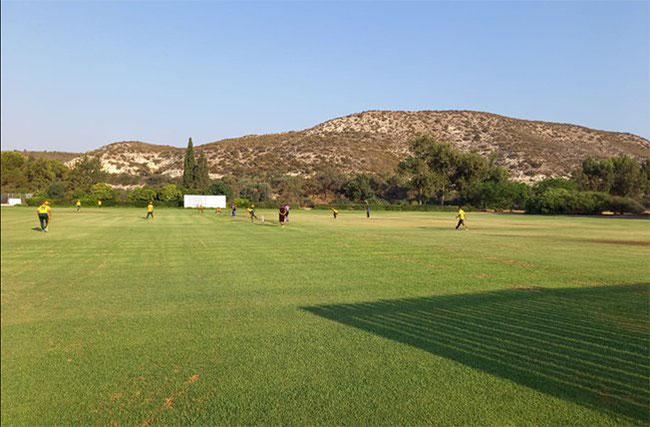 ---
Things are really hotting up in the eastern group of the 2021 CCA #BAOFINANCIAL T20 Cup, where six teams are in strong contention for a top-two finish which will ensure a semi-final spot.
The game of the day saw defending champions Punjab Lions, who had not started the season well, up against the unbeaten group leaders Black Caps, in a match played at the Happy Valley ground on Sunday.
True to form, the Lions were struggling until the arrival at number 7 of Tejwinder Singh, known in the cricket community as Lally, who hit a decisive 71, including 6 sixes, getting his team up to 163-7 from their 20 overs.
For Black Caps only Bikramjeet Singh (40) made any headway against the Lions' bowling, and their total of 119-8 left them well beaten, and knocked off the top spot.
Taking over in first position are Sri Lankans who beat Nicosia Fighters by 22 runs at Ypsonas. Both teams were bowled out inside their 20 overs, and the decisive contribution in a low-scoring game came from Sri Lankans captain Mangala Gunasekara who followed his 26 by taking 4 wickets for 15 in his 4 overs.
The other match in the eastern group produced the bowling performance of the day by Jugraj Singh, captain of the Singh Is King team, who took 5 wickets for 34 to bowl out Everest for 86. This was in reply to a solid score of 174, with three wickets each for Everest bowlers Aujun Shahi and Ram Jaiswal.
This match also provided strong performances in the field – Everest's Ashish Bam took three catches, a stumping and a run out, while for their opponents Scott Austin made three catches and a run out.
The table now shows Sri Lankans and Black Caps on 30 points, with four teams – Riyaan, Singh Is King, Nicosia Tigers and Punjab Lions – all on 20. All the teams have 3 or 4 games left to play, so there is plenty of time for things to change again.
In the western group Limassol Moufflons won a gripping encounter with Limassol Zalmi. After bowling Zalmi out for 127, Moufflons appeared to be letting a winning position slip, until a late partnership between Abu Sufyan and Abdul Rehman steadied the ship, victory coming with three wickets and 8 balls to spare.
In the battle at the bottom Limassol Bangladeshis gained their first win at the expense of Limassol Thunder. Bangladeshis made 153 for 7, with Rayhan Sarkar making 53, before bowling out Thunder for 122.
The western group is still led by Cyprus Moufflons and Cyprus Eagles CTL, neither of whom were in action this week. Their closest challengers at present are Sri Lanka Lions, Amdocs and Limassol Moufflons.
On Saturday Amdocs pulled off a convincing win over Cyprus Eagles CTL in the 2021 CCA #BAOFINANCIAL 40 Over Cup presented by Abbeygate Insurance.
Amdocs batted first at Ypsonas and made 154 all out in 32 overs. This proved to be more than enough as CTL lasted just 21 overs as they subsided to 102 all out. For Amdocs Hitesh Thadani took 4 wickets and Vimal Khanduri, who had earlier topscored with 29, three.
Amdocs are now in second place in the early stages of this competition, behind Moufflons.