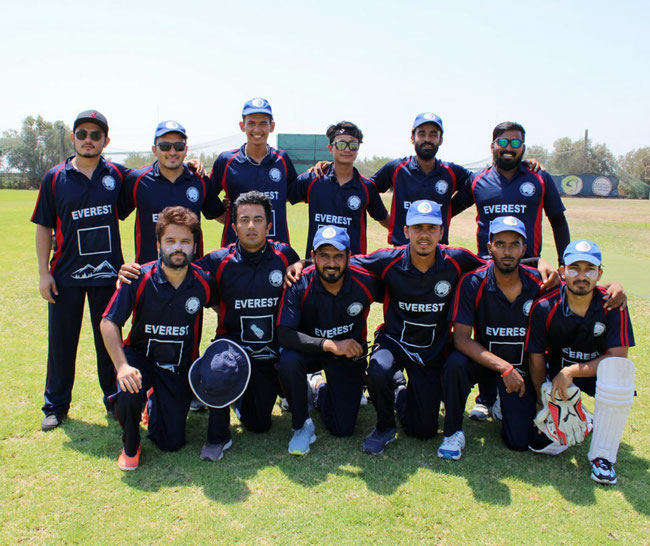 ---
Two top-of-the-table clashes in the CCA #BAOFINANCIAL T20 Cup on Sunday saw Riyaan move to the summit of the eastern group, while Cyprus Moufflons cemented their place at the top of the western group.
Punjab Lions continued their revival with a big win over Sri Lankans, and there was a first win for Everest.
Black Caps must have felt they were in line for a crucial victory after scoring 175-7, with Paul Pawandeep carrying his bat for 73, and then reducing the powerful Riyaan batting lineup to 110-5. But Riyaan did not lose another wicket, as Qasim Anwar (60 not out) with good support from Muhammad Usama took his team to their target with 4 balls to spare.
After a mixed start to the season, reigning champions Punjab Lions seem to be coming into good form, and they demolished Sri Lankans by 91 runs. All of their top five scored over 30 as they amassed 209-6, captain Neeraj Tiwari leading the way with 56. Tiwari followed this up with a spell of 4 for 12 from his 4 overs as Sri Lankans were restricted to 118-7.
The other game in the eastern group saw Everest gain a narrow win over Nicosia Tigers, their first success of the season. Sahil Aktar (30) and Jeewan Lamsal (25) helped Everest to 126-9, with Tigers' captain Faysal Mia taking three wickets. Abid Ali led the way for the Tigers with 47 but received little support, and Jeewan took 4-13 to end the innings on the first ball of the 16th over, just 10 runs short of Everest's score.
Bowlers were well on top in the big clash in the western group. Jahirul Islam with 3-15 was the most successful for Cyprus Eagles CTL as they restricted Cyprus Moufflons to 104-8, with only Gurdeep Sharma (29) and Lakhwinder Singh (23 not out) able to make any headway. The Moufflons bowlers were even more frugal, bowling out ten-man CTL for just 90. Murali Alanki top-scored with 26 but was one of three batsmen to be run out.
The result was a first defeat for the college team, and leaves Cyprus Moufflons well clear at the top of the group.
Saturday saw a high-scoring game in the CCA #BAOFINANCIAL 40 Over Cup presented by Abbeygate Insurance. Led by 68 from captain Rajwinder Brar, Black Caps set an impressive target of 275. Amdocs, to their credit, made a good attempt to chase down the runs, reaching 250 before being all out in the 37th over. The first six batsmen all made over 20, with the highest score being 47 by their captain Chaitas Shah.
Black Caps now sit second in the 40-over table behind leaders Moufflons, with Amdocs currently in third place.