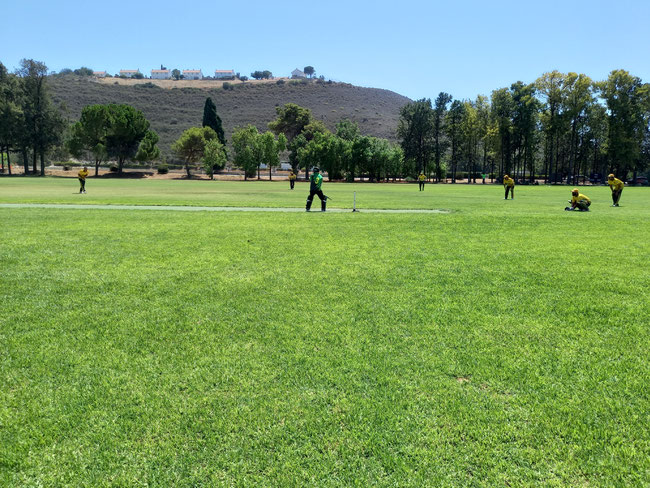 ---
Chaitas Shah hit a century for Amdocs in a losing cause at the weekend as both cricket leagues – the 20- and 40-over competitions – build up to an exciting climax over the remaining few weeks of the season.
The final stages of both will be contested by the teams who have the best record in the league stage, and most teams still have a chance as we approach the last few matches.
In the 2021 CCA #BAOFINANCIAL T20 Cup the only team sure of a place in the semi-finals is Cyprus Moufflons, who have won all their seven matches to date, and cannot be caught in the western group. Behind them no fewer than five teams are battling it out for second place, with the race likely to go to the last round of fixtures at the end of September.
The situation is, if anything, even tighter in the eastern group, where three teams – Punjab Lions, Riyaan and Black Caps are tied for the lead, closely followed by Nicosia Tigers and Sri Lankans, with Singh Is King also not out of the running.
Moreover, in the 2021 CCA #BAOFINANCIAL 40 Over Cup presented by Abbeygate Insurance four of the five competing teams still have realistic hopes of finishing in the top two and reaching the final.
The pick of Sunday's T20 matches was a two-run win for Nicosia Tigers over Singh Is King. Roman Mazumder led the way with 83 as the Tigers notched up a challenging score of 202-7. Singh Is King made a valiant effort to chase it down, with 55 from Ikram and 49 not out by Tanvir, but in the end they were just unable to score the 12 runs they needed from the final over.
Also in the eastern group Punjab Lions kept up their challenge with a huge win over Nicosia Fighters. The Lions put the game out of reach with 260-4, the main contributors being Gurpartap Singh (73) and captain Neeraj Tiwari, who made 62 before taking 4 wickets as the Fighters were dismissed for 88.
A crucial match with a bearing on the top placings in the western group saw Sri Lanka Lions comfortably beat Cyprus Eagles CTL, bowling them out for a mere 80, with four batsmen run out, before knocking off the runs for the loss of 4 wickets.
On Saturday Sri Lankans earned an important win over Amdocs, which keeps their hopes alive in the 40-over league. Chaitas Shah played a captain's innings of 106 for Amdocs but they were pegged back by off-spinner Nalin Gamage's 4-45, as they totalled 217.
Sri Lankans lost 6 wickets in chasing the target, but got there mainly through the contributions of 64 by Mangala Gunasekara and 41 by Denuwan Prartana. Amdocs now need to beat Moufflons on Saturday to have any chance of progressing in the competition.