---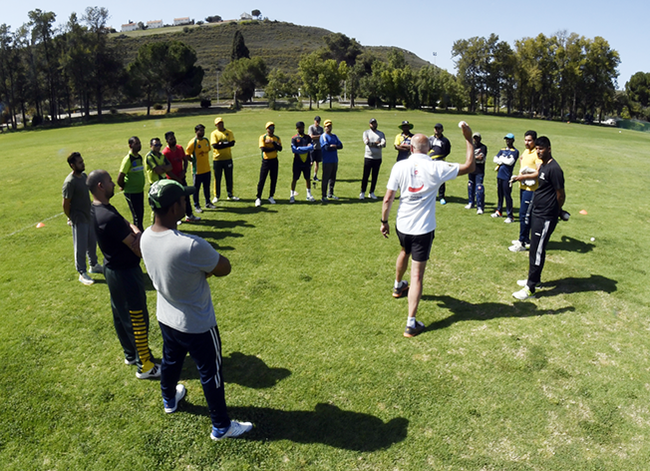 ---
The Easter weekend was a period of hard work in the relatively hot sun for the aspiring national team cricketers of Cyprus. A four-day training camp at the Happy Valley ground at Episkopi gave the players the chance to hone their skills and advance their claims for a place in the squad.
Cyprus is preparing for the European Qualifying Tournament for the World T20 Cup, an event which will be held in Finland in July, after being postponed last year due to the Covid-19 pandemic. Success in the tournament could lead to further qualifying events, with the ultimate goal of a place in the World Cup in the USA and West Indies in 2024.
Realistically, as a cricketing 'minnow', Cyprus does not expect to get that far, but the team is determined to put in their best effort and show the world that cricket on the island really exists!
National team coach Richard Cox, a highly experienced cricket coach with longstanding links to Cyprus, took charge of the training sessions, which included intensive work on various aspects of batting, bowling and fielding, as well as matches between the players to allow them to put their work into practice.
He was happy with the effort and commitment of the players, especially as some were fasting during Ramadan, which sapped their energy but not their enthusiasm.
The pool of players, drawn from 12 different clubs in the Cyprus cricket league, will now be pared down to a group of 20 for further training sessions before the final playing squad of 14 will be chosen.
Meanwhile the next domestic competition, the Spring T20 League, is due to start on Sunday, and will be played over the coming months. A record 18 teams have entered, and have been divided into three groups, with the top two from each group advancing to the final stages.
Group A contains proven strong teams Riyaan and Black Caps as well as two new teams. Group B looks quite competitive, with Cyprus Moufflons, Sri Lanka Lions and Nicosia Tigers all fancying their chances. In Group C reigning champions Punjab Lions will face a challenge from fellow Nicosia team Sri Lankans, and the unknown quantity of two more new teams.
The first week's matches on Sunday are:
Punjab Lions v Cyprus Super Kings
Sri Lanka Lions v Kings XI Punjab
Sri Lankans v Napa Kings
Black Caps v Royal
Matches will be played at Happy Valley and Ypsonas cricket grounds.