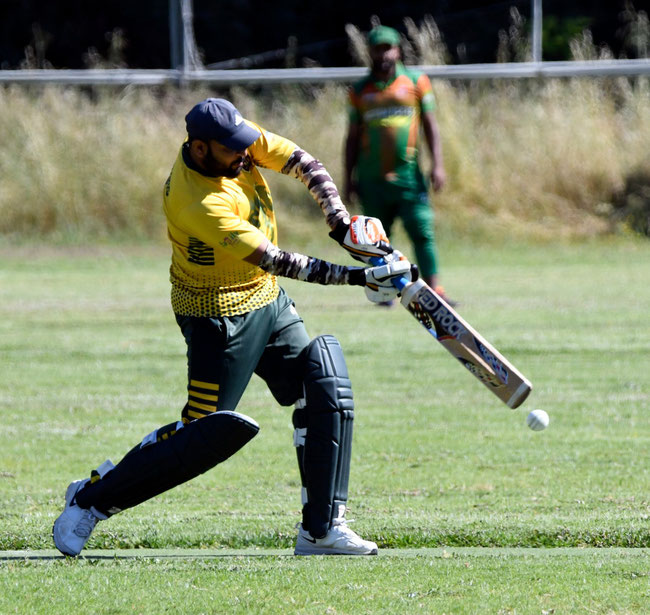 ---
The standout game in the 2022 CCA BAOFinancial T20 Cup on Sunday was the clash between reigning champions Punjab Lions and the team most likely to challenge them in group C of the competition, Sri Lankans of Nicosia.
But the match turned out to be a comfortable win for Punjab Lions as they amassed 213 for 5, led by Tejwinder Singh's 67. Sri Lankans never got to grips with their task as no batsman mastered the bowling, with Kulwinder Singh the most effective with 3 for 24.
In group A Black Caps continued their good start to the season with a 107-run thumping of Limassol Moufflons. Rupinder Singh led the way with 82 as the Caps totalled an impressive 258 for 6. The Moufflons reply was inevitably a forlorn one as Kashi Ram picked up 3-26, but they reached a respectable 151-9 with Abdul Rehman 56 not out.
Two games were played in group B, where Sri Lanka Lions were another team to continue a good start to the campaign. They hit 209 for 9 against Limassol Bangladeshis, with skipper Sachithra Nalin making 75 from just 36 balls. Then Ruwan Manawasingha took a remarkable 5-14 with his spin varieties as the Bangladeshis were bowled out for 102.
At Happy Valley, where run scoring is harder than at Ypsonas, Cyprus Moufflons started their season well with a 45-run win over Nicosia Tigers. Moufflons were struggling at 82 for 5 before Gurdeep Sharma (45) and Riyaz Kajalwala (23) came together in an unbroken partnership of 67 to set a defendable score of 149-5. Despite Aminul Islam's 38 not out, the key performance in the Tigers' innings was the bowling of Moufflons' Waqar Ali who took two wickets and conceded only 6 runs in his 4 overs, as Tigers finished on 104-7.
Next Sunday sees six more games, including the debut appearance of new team Markhor, who take on Nicosia Fighters at Ypsonas.