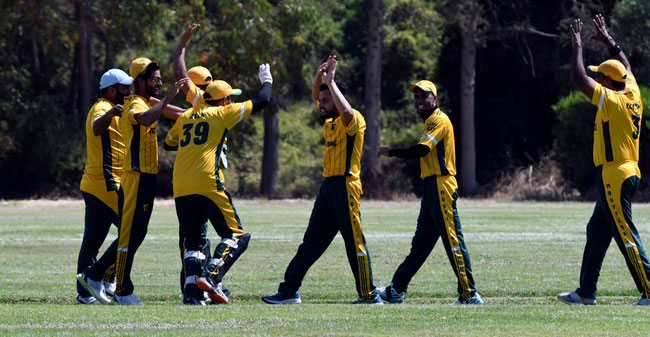 ---
It was the day of a cricketing lifetime for all-rounder Buddika Ranasinghe of Sri Lankans CC at Happy Valley on Sunday.
The match against Cyprus Super Kings, a team of mainly students from Limassol, was a must-win game for both teams if they wished to maintain any hope of progressing to the final stages of the 2022 CCA BAOFinancial T20 Cup.
Despite a fine 73 from Akila De Silva, the Sri Lankans were struggling for runs when Buddika came in at number 9, but his rapid 25, scored in partnership with Nalin Gamage, helped his team to a defendable total of 168 for 8 from their 20 overs.
Then the fireworks really started as Buddika ripped through the students' batting. In 4 overs he took a remarkable 7 wickets for 9 runs, as none of the batsmen appeared to have the technique to cope with his accurate left-arm swing bowling. The final wicket was a run-out as the Super Kings found themselves dismissed for 46, losing by 122 runs.
The next game was much closer, as Sri Lanka Lions from Limassol played out a good game against Amdocs, winning eventually by 22 runs. The Lions posted a score of 174 for 7, led by a classy knock of 43 from Roshan Lakmal, supported by Chamal Sadun's 39 and a breezy knock at the end by Kamal Raiz (34 not out).
Hitesh Thadani was the pick of the Amdocs bowlers with 4-21 from his 4 overs. The Amdocs chase got off to a promising start, with captain Chaitas Shah in great form with a rapid 25. Gaurav Singh and Preetaj Deol also got into the twenties, but the required run rate was creeping up, and although the batsmen continued to try, the task was just beyond them.
Ruwan Manawasingha (3-31) and Roshan Lakmal (2-21) were the best of the Sri Lankan bowlers. The early morning game also turned on a dramatic passage of play. After Limassol Moufflons made 156 for 8, Royal CC saw their hopes dashed in the first over of their reply, as Gaganpreet Singh took two wickets in two balls, and an excellent direct-hit runout from the last ball reduced them to one run for three wickets, which soon became 4-4 in the next over.
From that point Royal tried to fight back, but never really had a chance of winning the game. Their captain Sarpreet Singh at least gave them some respectability with 34 as they reached 96-7 at the close.
Earlier the Moufflons had started well with a quickfire 34 from the evergreen Ghulam Murtaza, followed by more sedate, but valuable, thirties from Hamza Ali and Salman Akram, who later took two wickets.
In the games played at Ypsonas there was an important win for Napa Kings over Limassol Qalandars, both of whom had started the season well. Sohail Ahsan's 80 helped Qalandars to 165 for 9. Napa Kings' Shah Zeb took 5 wickets for 25 and then hit an unbeaten 50, in company wit Mohamad Ikram's 61, as the Ayia Napa team eased to an 8-wicket win with nearly 4 overs to spare.
Cyprus Moufflons earned a massive 132-run victory over Kings Punjab. The stand-out performances were all on the Moufflons side – Scott Austin 93, Gursewak Singh 89 not out, and Zeeshan Sarwar 53 as they totalled 272 for 5, followed by Waqar Ali's 5 wickets for 5 runs reducing the Kings to 140 all out.
There was drama of two kinds in the final game, between Riyaan and Markhor. First the game was held up for a considerable time as firefighters attended to a nearby blaze which was sending thick smoke across the ground. Then, when the game got underway, Markhor caused an upset by beating one of the strongest teams in Cyprus.
Only Awais Liaqat and Anjum Zia passed thirty for Riyaan as Tasawar Gujjar (4 for 30) and Malik Amir (3 for 18) dismissed them for just 125. Then, despite the loss of wickets at the other end, opener Zeeshan Ahmad stood firm with an unbeaten 62 as Markhor got home with 4 wickets and 8 balls in hand, to record a famous victory.