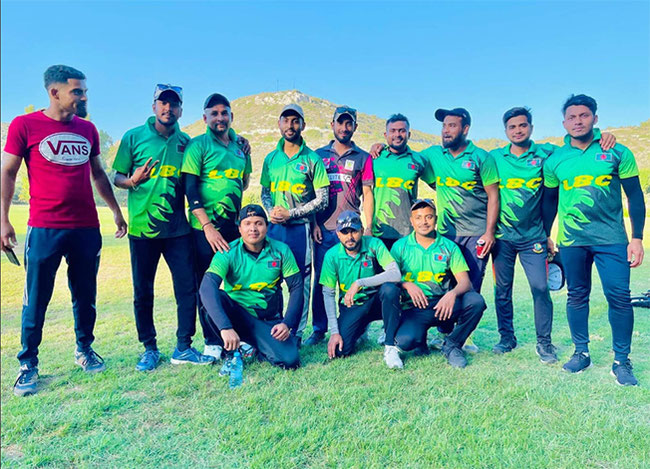 ---
It seems that 150 is a good 20-over score at the Happy Valley ground. In the latest round of matches there in the 2022 CCA #BAOGroup T20 Cup, the team batting first scored between 150 and 160 and then successfully defended the score to win relatively comfortably.
Limassol Bangladeshis 160-8 beat Kings Punjab 137-7 by 23 runs
Pride of place goes to the relatively new Bangladeshi team from Limassol, who gained their first victory of the year. After a bad start their captain Alamgir Hossain hit a rapid 28 before being unluckily run out by a brilliant piece of fielding by Rajinder Kumar. Late innings support from Mostafa Kamal and Hridoy Hossain took the total to a healthy 160.
Alamgir (2-9 from 4 overs) and Mostafa (3-15) were also the best bowlers as Kings subsided to 47 for 4, before Lovedeep Singh, who earlier took 3-27, threatened to turn the game round, hitting 5 sixes in his 46, but once he was out the innings fell away. Jowel Mia held three excellent catches to help Bangladeshis to their win.
Punjab Lions 153 beat Napa Kings 130-6 by 23 runs
The two previously unbeaten teams in Group C met in a heavyweight battle where a Napa team lacking some key players did not quite have enough batting strength to overcome the champions. They started well in the field, taking the first three wickets for 12 runs, but Gurpartap Singh and Neeraj Tiwari turned things round with an 88-run partnership in 7 overs.
Napa Kings failed to take the chance to remove Gurpartap early, and he raced to 72 from 30 balls. After his dismissal Napa Kings re-asserted some control, taking the remaining six wickets for 53 in 9 overs.
However, their batsmen failed to score quickly enough against tight Punjab bowling, with Taranjit Singh excelling with his yorker-length deliveries. The Kings captain Mohamad Ikram top-scored with 58 but received little support, and the team was not able to make a real challenge, losing by 23.
Black Caps 150-8 beat Markhor 133 by 17 runs
Markhor gave Black Caps a fright in the closest match of the day at Happy Valley.
Chasing 151, Markhor were well placed at 92-2 after 12 overs, led by Zeeshan Ahmad's 37. But five wickets then fell in two overs for the addition of only 7 runs, thefeature being an absolutely outstanding caught-and-bowled by Resham Singh to dismiss Wasim Abbass. The tail wagged a little but it was too late and Markhor finished all out for 133.
Earlier Black Caps had started well with an opening stand of 74 between Pawandeep Paul and Rupinder Singh. But then the bowlers prevented the expected large total, with Md Qamar Ali spinning his way to 3-15.
Royal 185-5 beat Nicosia Fighters 172 by 13 runs
All the games at the Ypsonas ground were close, and Royal gained their first win by beating Nicosia Fighters. Royal's Rahul Behl (62) and Sehran Ahmed (53) led the way to their 185-5. For the Fighters Anowar Hossen and Md Jubraz Morol got into the thirties but no-one was able to see the team over the line. They were all out with three and a half overs unused, and only 14 more runs required.
Nicosia Tigers 204-6 beat Amdocs 195-8 by 9 runs
A high scoring match saw Nicosia Tigers narrowly defeat Amdocs. Roman Mazumder was the star, batting through the innings for 119. Amdocs started quickly with an opening partnership of 61 in 5 overs by Gaurav Singh (30 off 13 balls) and Preetaj Deol who went on to make 45.
Aritra Chakraborty and Hitesh Thadani also made thirties, but probably the decisive contribution in a batsmen's game was the spell of Jamil Hossin Linkon, who took 4 for 23 from his 4 overs, as Amdocs fell just short.
Limassol Zalmi 153-6 beat Cyprus Super Kings 149-6 by 4 wickets
In the day's only game won by the team batting second, Zalmi restricted the Super Kings to a below-par score at Ypsonas, where conditions favour the batsmen. Babar Ayub ignored his aches and pains to take 3-32, while the only significant contribution for the Kings came from Venkatreddy Kaythi with 52 in a second wicket partnership of 100 with Vinod Kumar.
Despite Thirupathi Reddy's 4-25, Zalmi made short work of their task, reaching their target in the 17th over, led by opener Umar Shah's 68.
As the end of the group stage comes nearer, the only teams still unbeaten are Black Caps in Group A, Cyprus Moufflons (Group B) and Punjab Lions in Group C.